The material used for the rugs in your kid's room will depend on how that room is used. If the rug is for a playroom, for example, you'll need a rug that is more resistant to use.
Wool is a durable material that can be cleaned and vacuumed quickly. One of the advantages of this material is that it naturally acts as an insulator, so that in summer it doesn't add extra heat and in winter it helps to protect from cool flooring.
Polyester is a very soft, versatile, and resistant material. Since it is water repellant, small accident or spills won't be any cause for concern. Even softer are our rugs woven with Tencel, a sustainable material that is silky smooth and adds a shine that you and the little ones will love.
We've created our collection of children's rugs with the idea of incorporating fun and sensorially stimulating décor to the child's environment. Some of our designs, like Globus, are made in 100% pure new wool in our hand-tufted cut pile technique, but these designs can also be made with loop pile to avoid fluff. The Borriquito rug is made in various textures such as wool, wool and silk, natural linen, jute and hemp, making it a sensory and especially tactile floor covering.
Buying a rug for kids is not something you do every day, but it's important to choose carefully as it is somewhere that they'll be able to play, while also being comfortable and cosy at home.
Washable or easy-to-clean children's rugs
If you are looking for a children's rug, one of the most important and recommended factors is that it can be easily cleaned, since children tend to make a bit of a mess! So, surely, you're interested in a fabric that allows for stains to be easily cleaned, like wool or polyester.
In addition to being easy to clean, you should also consider the thickness of the rug. This is important, since the thicker it is, the better it will cushion the tumbles and falls of the little ones. We'd recommend a pile height of at least 12 mm.
Below you have some of our rugs that you can clean without any problem by following the appropriate maintenance instructions:
-          Globus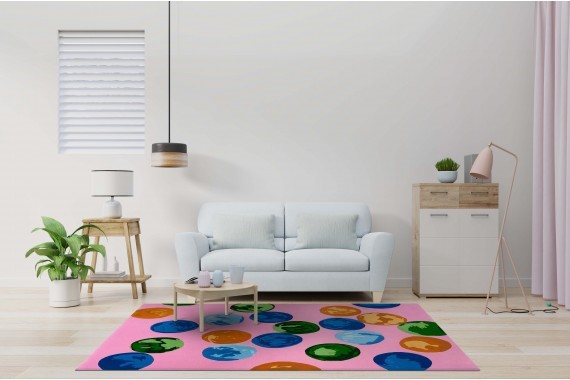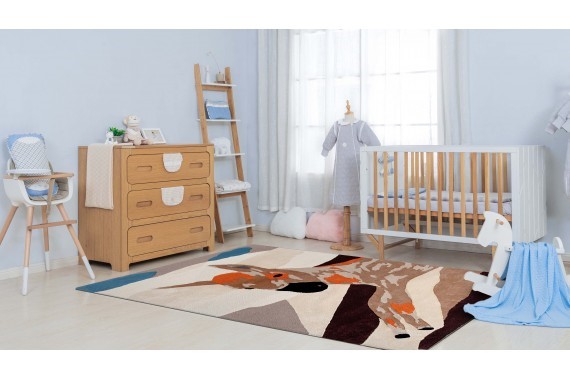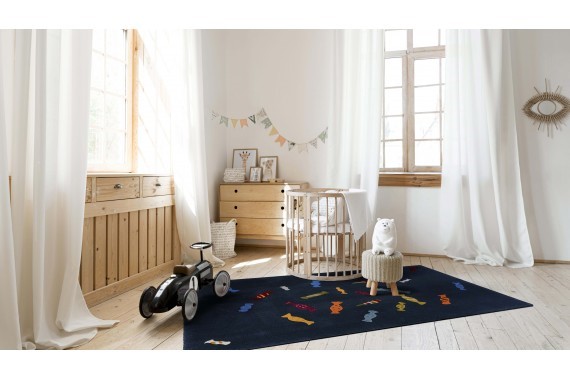 Nursery room rugs
Choosing a rug for a baby's room is a very special moment since it's a feature that will accompany your family as your little one grows.
To choose a rug for our babies we need to consider that they should be easy to clean, good-quality and customizable. At alp_ you can find unique and innovative designs as well as the latest trends in the baby market.

It is very important that the rug in the nursery is soft and yielding, so that babies and toddlers are comfortable and protected in case they fall. Remember when buying a rug that this is where your precious little baby will take their first steps!
It's normal that parents are excited to decorate their babies' room, and the best way is with children's rugs in pastel, cheerful or neutral colours. We recommend you visit our website, where surely you will find what you are looking for, since we can customize almost all rugs in your favourite colours and textures.
We hope you like our selection and our post has helped! Furthermore, we recommend you visit an interior design professional for more advice or contact us, we will be happy to help.
Related products