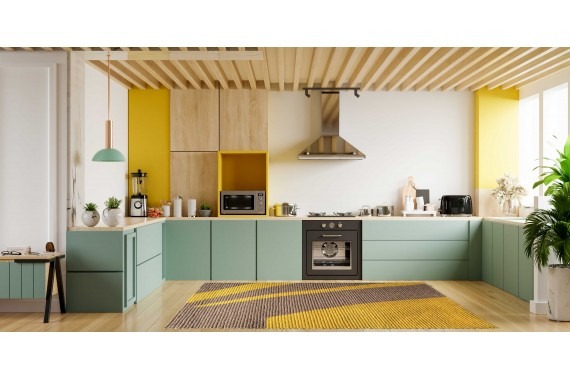 The designer rugs have been taking center stage in different spaces of our houses and one of them has been the kitchen. For a time we thought that it was simply a decorative element for living room areas, corridors or entrances, but the reality is that it can be given much more play. Today we will talk about kitchen rugs and some tips when choosing yours.
Why put a rug in the kitchen?
There are multiple reasons why we should use a rug in the kitchen and some of them are:
·Make the kitchen a more welcoming place: especially in kitchens with a more industrial touch or sober colours, a rug can create a much warmer environment.
·Regarding the design, the rugs will provide a unique touch that will make a space more unique and complete.
We all know that the kitchen is where the floor suffers the most damage. However, if we cover the most conflictive areas with a kitchen rug, we will be able to reduce it.
·Delimiting areas within the kitchen is as important as in the rest of the rooms since it can help us create different rooms and a feeling of spaciousness.
·Helps reduce dirt, both from outside and inside, for example, by absorbing falling water to prevent slipping.
Where is the best place to place the rugs for the kitchen?
From the point of view of most usefulness, the optimal thing is to place them in areas near sinks or fires where they can splash water, oils... in order to avoid slips, falls or damage to the floor. On the other hand, as always, a rug can be placed anywhere on the floor so... Wherever you like!
Aspects to take into account.
Some of the characteristics that you should look at when selecting a kitchen rug are:
-The color. Not all colors fit in all kitchens, in addition, with a rug you can choose if you want to achieve a more lively or warm room.
-Prints. As we have mentioned before, the rugs will also absorb those stains that can fall through a rug. Stamped it will always be much more discreet and they will not be so noticeable.
-Shapes. There are many shapes for a rug so, taking into account the space you are going to want to mark and its dimensions, you must select the shape that best suits it.
At Alp_ we have a wide variety of kitchen rug designs, we are "Paisana"  made by hand with 100% virgin wool and customizable in your budget.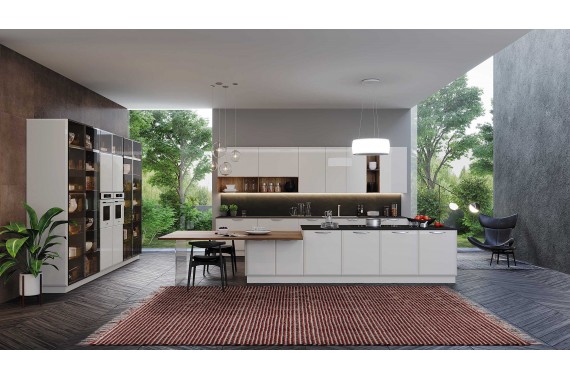 If you prefer a touch of color, you can also find the "Yute" rug, made with the Alpujarreño knot that will create a beautiful atmosphere in your kitchen.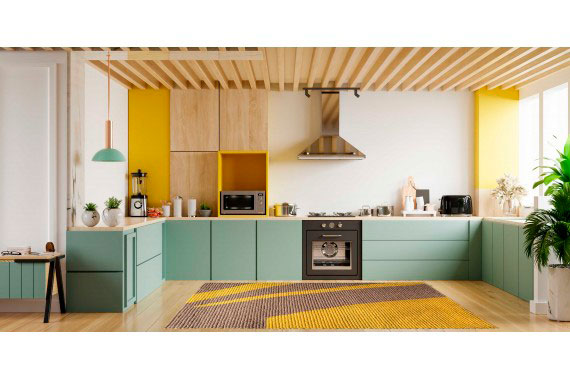 If you want to find the rug of your dreams, do not hesitate to contact us or request your quote. We will wait for you!