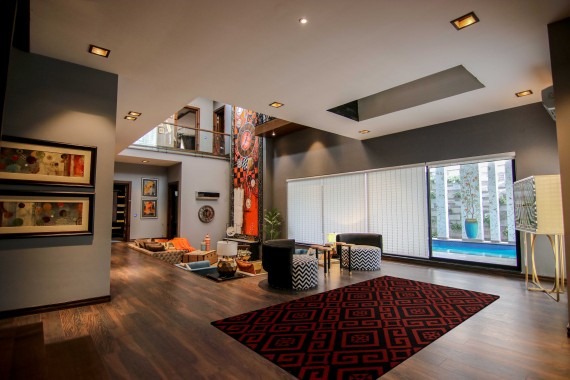 The dining room is one of the main meeting points for the inhabitants of a home and for the guests that we may have. That is why, being so exposed, its decoration must fulfill part of its aesthetic function, that of courtesy. To achieve this sensation, the space must have the capacity to transmit warmth and comfort through its decoration. We can achieve these sensations in many ways and one of them is to add certain simple elements, such as a rug, with which to provide that touch that we like so much.
A rug under the dining table can bring prominence to the room, helping us to divide spaces and create a more welcoming and homely atmosphere.
To choose the most appropriate rug for your dining room, it is very interesting that you take a look at these tips, with which you can make the best possible decision.
The format of the mat
To choose the ideal size, first of all, you must take into account that it is better to have more than enough. The rug must have a length of at least 60cm more on each side of the table, so that diners have enough space to pull the chair out when getting up or sitting down without tripping over it. Even if it is wider still better.
As for its shape, we also have wide sleeves and it would be very wise to innovate in this regard. We do not have to use the classic rectangular rug format, although it always looks good and is a good option if we have a rectangular table. We can also opt for asymmetrical or round shapes if we have a smaller or round table.
the color of the carpet
To choose the ideal color for our rug, the first thing we must bear in mind is that light colors must be avoided. Unless the dining room is not a very busy and used area in your home, the ideal is to avoid pale colors and whites since dirt and stains can be seen very quickly in them and it will be very annoying at the time. cleaning too. The most intense tones will get us away from this little problem and will bring a lot of vitality and character to our dining room.
Playing with contrasts can also help us create a more attractive and stylish space. For example, if our living room is decorated in light tones, we can choose a black and white striped rug; or with the brown wooden platform you can also play with warm and lively tones in colors such as yellow, red, fuchsia pink...
The composition
Natural fibers such as wool or cotton have a great texture and a timeless design that will go perfectly with your dining room. In addition, they are much easier to wash than synthetic fabrics. The key is also in its texture. At Alp we have more than twenty different textures with which you can achieve the perfect combination with your dining room table. Take a look at our different carpet textures.
model height
The ideal is to provide flat models without many reliefs. This is because this area of ​​the home is highly exposed to liquid spills and chair movements. Short-pile rugs without volume are the most practical choice for this. A softer rug will be appropriate for the sofa area or the living room in general, for example.