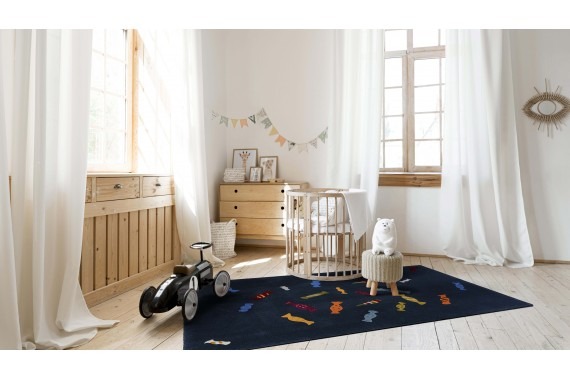 Carpets have become a "must have" in most homes and that is because they have the ability to make a cozy and unique place that leaves no one indifferent. If we think of a rug, we always do it from the decorative side, but the reality is that it brings many other things to our room as well. Today we will talk about children's rugs since it is a room in our home where they can also be very useful.
Why put a rug in the children's room?
With a rug we can achieve a more comfortable and safe environment for the little ones since, as we know, they enjoy throwing themselves on the ground and playing on it.
Much more comfortable rooms. This is something that we achieve when we decide to put a rug in any room, since it creates a warmer and "fuller" environment, which accompanies feeling more comfortable.
We can better delimit your spaces. As we have said before, the little ones enjoy playing and having fun on the floor, so with a rug we can help define that "play area" since it will have more use than the rest of the room.
Many carpets have treatments that prevent mites. And they reduce dust, so this also helps a lot in the treatment of allergies in children, who will not be upset or irritable because of it.
Aspects to take into account when buying a children's rug.
Materials: The best option for children's rugs is that they are made of natural fibers instead of synthetic fibers. In. Alp_ most of our rugs are woven with 100% virgin wool.
Easy to clean: if this rug delimits, for example, the play area, we know that it will be exposed to multiple stains and dirt, so the best option will be rugs that you can put in the washing machine or that are easy to vacuum.
Size: large children's rugs usually give much more life not only to children but also to the room itself. This does not mean that it has to occupy the entire bedroom, but a large part of it that is available for the little ones to be on it.
Colors and patterns: returning to who are the ones who will use these rugs, the colors and patterns will depend on our own tastes and what best matches the rest of the decoration. One detail that we must take into account is that dark colors and patterns will hide these stains much better.
That they are non-slip: this is a very important aspect since we are also talking about safety. Many rugs have a built-in backing that keeps the rug in place, but many do not. In that case, there are accessories that are glued to the base of our rugs and achieve the same effect, thus reducing the probability that a tragedy will occur due to a displacement of the rug.
Our collection of children's rugs.
At Alp_ we also think about the little ones and that is why we have a collection for them.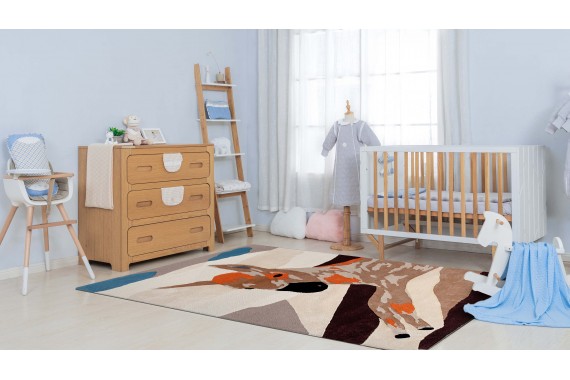 Made with fibers of natural origin and using the tufting technique, this beautiful rug designed by Lorena Fernández will also make the little ones fall in love.
Globe model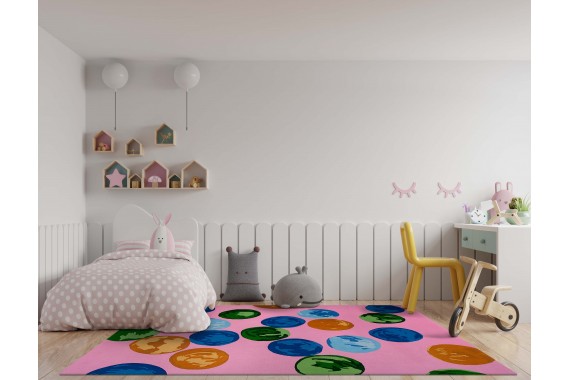 Globe is a rug that you can customize both in the type of fabric (wool, wool and silk, short linen or silky) and the colors that you want each of the details to have. Its thickness is 16 mm so it will be very comfortable for children. Can you ask for something more?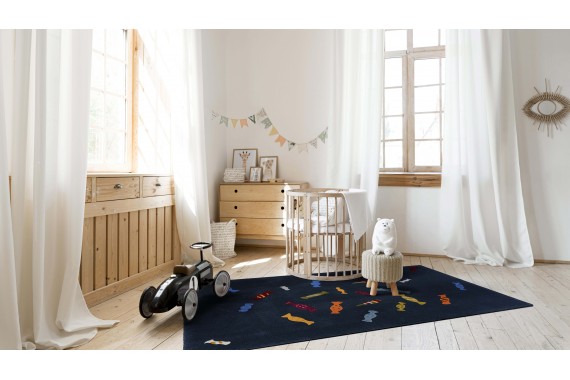 Like the "Globus" rug, this one can be customized in terms of fabric (short linen or silky) and vary all the colors until you find your perfect combination for this children's rug.
If you are looking for the best rug, at Alp_ we are experts weaving dreams. Do not hesitate to contact us and request your budget. We will wait for you!